SOLIDWORKS Education Edition Software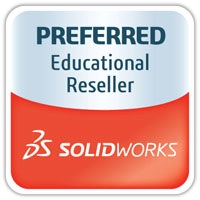 The complete CAD teaching tool. Featuring software plus a full curriculum and interactive courseware, SOLIDWORKS® Education Edition is your all-inclusive resource for teaching 3D mechanical CAD, design validation, and data management.
See the SOLIDWORKS Simulation Video
SOLIDWORKS® Education Edition Includes
SOLIDWORKS® Premium Software
SOLIDWORKS® Simulation Premium
SOLIDWORKS® Motion
SOLIDWORKS® Flow Simulation
SOLIDWORKS® Plastics
SOLIDWORKS® Routing
SOLIDWORKS® Composer
SOLIDWORKS® CAM Professional
SOLIDWORKS® Electrical Professional
SOLIDWORKS® Visualize Professional
SOLIDWORKS® Treehouse
SOLIDWORKS® Toolbox
Model Based Definition
Extensive interactive courseware projects, through MYSOLIDWORKS.COM- Professional
Access to our online educational community, plus our library of articles, tutorials, product resources, and more.
Also Available:
SOLIDWORKS Support Documents